For customers using Mothernode's Enterprise edition for order processing including manufacturing, orders are created and then processed to enable order fulfillment functions including production, shipping and installation.
Once an order has been processed using the Process Order function, line items may still be edited using the standard edit functions and related options, unless one of the two following conditions occur:
The line item is accepted into production, or
The line item is logged as completely shipped or installed
If neither of the above has occurred, then the line item may still be edited as needed.
Following is guidance on how each of the above two scenarios are handled in a processed order, including options for editing the line items in the above situations.
Line Item has been Accepted into Production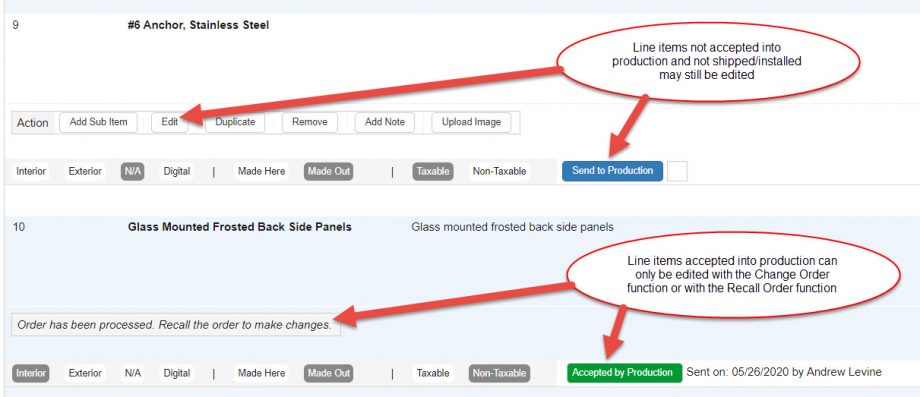 Line items accepted into Production will be flagged as noted above in the Order Entry section. At this stage, standard editing functions are no longer available for these line items, though the Change Order function may be used if necessary. Other line items on the order that have not been accepted into production or shipped/installed may still be edited, as the standard edit functions will still be available.
Recall Order can be used if necessary to pull the line items from production to make them available for editing again, but it is recommended to check with your production team first to determine where the line items are in the production process, as it may be determined that recalling an order at certain stages of production will not be a viable solution.
Line Item is Logged as Shipped or Installed

As noted above, when a line item is completely shipped or installed, it is 'locked', so it cannot be edited with standard edit or Change Order functions.