Transaction-specific emails in Mothernode can be sent directly from the transaction record, and referenced in the transaction's Email tab. This applies to Quotes, Orders, Work Orders, Purchase Orders and Invoices.
Emails can be sent from the transaction's Print / Send function so that the transaction PDF can be communicated to the recipient, and Contact email can be sent from the Billing / Shipping Contact information on the left-side of the transaction's header, by clicking the Envelope icon: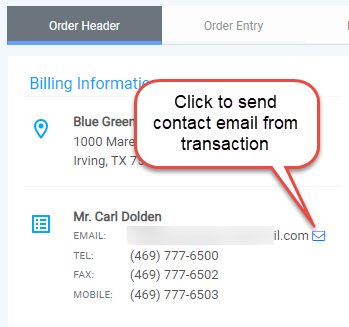 Sent transaction emails will be referenced in the transaction's Email tab. In the following example, the Order's Email tab will include emails sent from the Order in addition to emails sent from the related Quote, Work Order, Purchase Order and Invoice.

The referenced emails identify the transactions they were sent from, and those references can be clicked to open the noted transaction record.