Customers who depend on Constant Contact to create and organize their email marketing lists can easily add their Mothernode contacts to their Constant Contact lists. Mothernode even let's you assign lead capture forms to Constant Contact lists, so you can automatically enroll new leads into one or more lists, all at the same time.
What you need to know before you get started.
You must have a Constant Contact account to use this feature. To signup for a Constant Contact account visit http://www.constantcontact.com and choose a plan that best fits your needs.
You must create one or more marketing lists in Constant Contact.
Constant Contact customers can obtain their API Key from within their Constant Contact account. Visit www.constantcontact.com for to learn how.
Constant Contact is an email marketing application that is independent of Mothernode. While you have the ability to add and remove Mothernode contacts from your Constant Contacts lists, all of your Marketing campaigns and templates will still be managed an initiated from your Constant Contact account.
Once you add a Mothernode Contact to Constant Contact, they will always have to be attached to at least 1 Constant Contact list. This is a requirement of Constant Contact.
Once your API key has been added, you can add any of your new and existing Mothernode contacts to any of your Constant Contact marketing lists.
This API will allow you to accomplish the following.
Assign Mothernode Lead Capture forms to Constant Contact marketing lists
Mothernode users who use lead capture forms can now connect those forms to corresponding marketing lists in Constant Contact. This means that when visitors complete a web form, they will become a new lead in Mothernode and will automatically be added to any corresponding Constant Contact Marketing lists.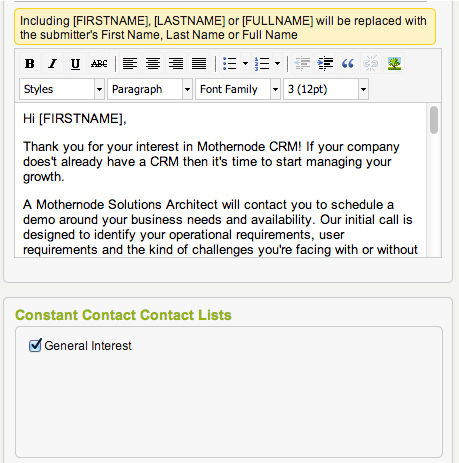 Adding Mothernode Contacts to existing Constant Contact marketing lists
You can now add contacts, prospect contacts and customer contacts into any Constant Contact marketing list from within the contact record. You will need to activate syncing for any contact you want to add to a Constant Contact marketing lists.