THE FOLLOWING API HAS BEEN RETIRED. FOR MORE INFORMATION ABOUT MOTHERNODE EMAIL MARKETING OPTIONS AND PLANS VISIT MOTHERNODE.COM
IMPORTANT: This API connection method is designed exclusively for customers using legacy campaigns and sequences in Infusionsoft.
Connecting your Infusionsoft Account to Mothernode lets you activate and link your Infusionsoft marketing sequences and contacts to your Mothernode account. The direct benefit of this feature is you no longer have to access Infusionsoft to place contacts into sequences. Simply setup your marketing sequences in Infusionsoft and trigger them from Mothernode. You can also use Mothernode webforms to capture new leads and trigger Infusionsoft sequences simultaneously.
What you need to know before you get started
You must have an Infusionsoft account to use this feature. To signup for an Infusionsoft account visit http://www.infusionsoft.com and choose a plan that best fits your needs.
Infusionsoft customers can obtain their API Key from within their Infusionsoft account following these instructions http://ug.infusionsoft.com/article/AA-00442
Once you connect your Infusionsoft account, Mothernode will become the controller for all your contacts. This means when you update contact in Mothernode you will be updating the contact in Infusionsoft (if syncing is selected for that contact).
You must select which Mothernode contacts you want to sync with your Infusionsoft. This is to prevent you from incurring involuntary charges from Infusionsoft that result in an unexpected plan upgrades or other chargeable penalties.
Any Infusionsoft sequence that is triggered from Mothernode may take up to 1 hour to register as sent in your Infusionsoft account. This is controlled by Infusionsoft and cannot be changed.
This Infusionsoft Video will give you additional information about the Infusionsoft API. http://www.youtube.com/watch?v=ls1ZYJl_9SI
To Enable Connection
Enter your App Name and API Key for your Infusionsoft account, into Mothernode

Click the Connect button to your Mothernode account with Infusionsoft
This API will allow you to accomplish the following.
Assign Mothernode Lead Capture forms to Infusionsoft Sequences
Mothernode users who use lead capture forms can now connect those forms to corresponding marketing sequences in Infusionsoft. This means that when visitors complete a web form, they will become a new lead in Mothernode and will automatically be added to any corresponding sequence.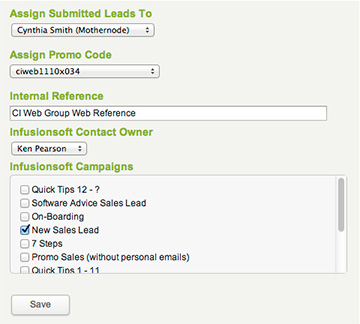 Adding Mothernode Contacts to existing Infusionsoft Sequence
You can now add contacts, prospect contacts and customer contacts into any Infusionsoft sequence from within the contact record. You can also start and stop sequences from within Mothernode. You will need to activate syncing for any contact you want to add to an Infusionsoft sequence.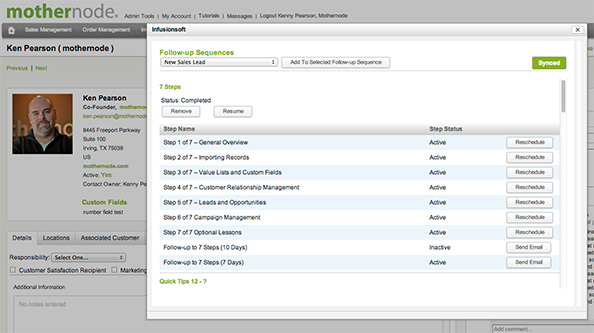 Import your Infusionsoft contacts into Mothernode CRM
Once connected to your Infusionsoft account you can import your existing Infusionsoft contacts into Mothernode.