Mothernode CRM Enterprise customers can connect to their Xero account and electronically post Mothernode Invoices into Xero.
Connecting Mothernode to Xero
This process is available in Mothernode CRM Enterprise or any edition that includes invoices. Users must also have a paid subscription with Xero. Xero trial accounts will require reconnecting the API every 30 minutes. You must have Administrator Privileges in Mothernode CRM to connect to your Xero Account.
Click the Administration Menu
Click API Connections in the menu
Click the Xero Tab (The option to connect will appear)
Click the Connect Button to initiate the connection to your Xero Account.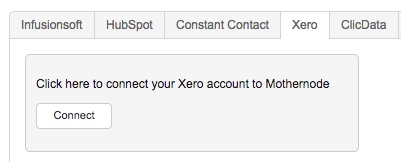 5. Enter your Xero Login Credentials and click Login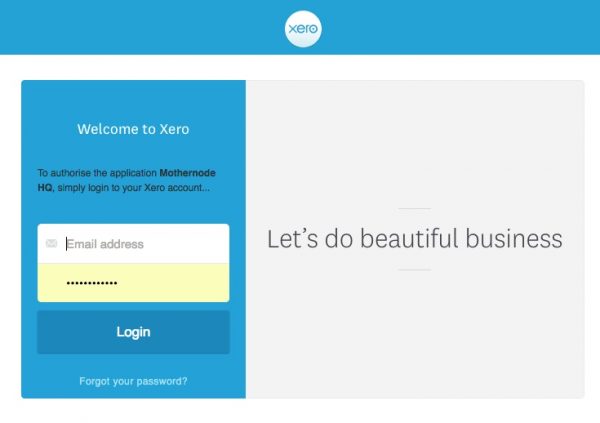 6.  Click the Allow Access Button. Note, when using a trial account you will only be granted access in 30 minute intervals and will need to repeat this process after each session expires.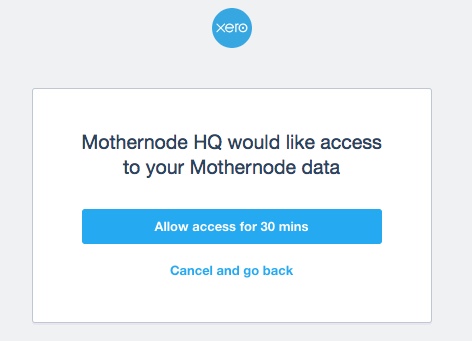 7. Choose and account record payments to in Xero. Note: if you plan on applying payments in Xero and not in Mothernode, then select Don't record payments. Selecting and account to post payments to will update corresponding Mothernode invoices in Xero with the payments applied. This process requires users to apply the payment in Mothernode.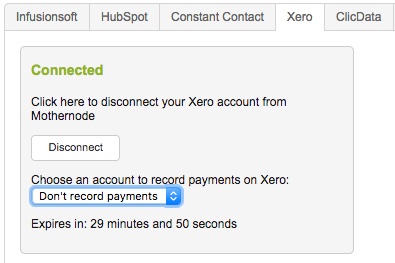 ---
Administrators can sever the connection with their Xero account at any time by clicking Disconnect. This process is also beneficial when troubleshooting connections.