Mothernode CRM includes an advanced inventory module that gives customers greater controls and options when it comes to managing their goods and services. Unlike the basic Products and Services Modules, Mothernode's Inventory module is available in select editions. For more information contact a Mothernode CRM product expert or your account manager.
The Advanced Inventory module gives users a variety of different options and capabilities when it comes to managing inventory and how goods and services can be added to Mothernode Quotes, Orders, Purchase Orders and Work Orders. Mothernode's Inventory Module allows customers to:
Create bundles
Create pricing tiers
Assign inventory to customers
Set re-order points and on hand minimums
Define virtual vs. physical
Make items commissionable or non-commissionable
Set expiration dates
Apply weight, heights and other physical characteristics
Assign up-sell items
*  for a complete list of inventory benefits and attributes contact your Mothernode CRM representative.
Importing Inventory
Users can import inventory into their Mothernode Account by using any one of the import templates or their own XLS or CSV file.  Mothernode templates are recommended and are available in two formats. When using the templates not all of the fields are required, although the more fields that are populated, the more practical the inventory module becomes.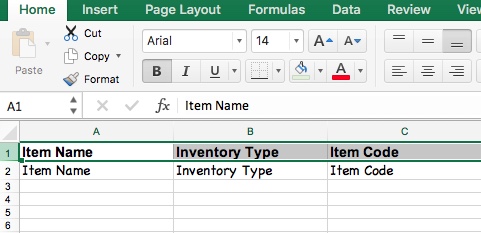 TEMPLATE DOWNLOADS
Mothernode CRM Inventory Import Template (BASIC) | DOWNLOAD
Mothernode CRM Inventory Import Template (FULL) | DOWNLOAD
Steps to Importing Inventory
Once you have populated either of the templates with your inventory items, you will be able to import your goods and services into your CRM's inventory module.
Access the Inventory Module in your Mothernode Account
Click the Import option in the page menu
Select your XLS or CSV file to import
Map the fields to the fields in the XLS or CSV file (Use the DETECT fields to quickly map all fields at once)
Follow the remaining steps on screen
Undoing Imports
As with many imported records in Mothernode CRM, users can undo their import as many times as needed. Once an import is undone, the records that were part of the import are permanently removed, allowing the user to make corrections to the import file and start the process again. See the section on undoing imports for more details.