QuickBooks Sales Tax (QuickBooks Online)
When syncing Quotes and Invoices from Mothernode to QuickBooks Online, please note that by default, QuickBooks Online will control the initial sales tax calculation in the newly synced Estimate or Invoice. QuickBooks Online uses a default automated sales tax calculation named Based on Location, so once the Mothernode transaction syncs to QuickBooks Online, then by default QuickBooks Online will make an initial sales tax calculation using the customer's location.  However, you can override the default tax calculation in the QuickBooks Online transaction with a custom sales tax rate if desired: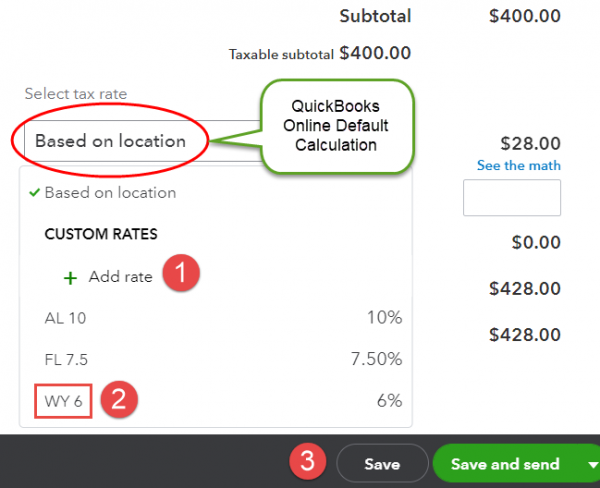 Per the above image, if you would like to override the default location-based calculation with a custom sales tax and subsequently generate sales tax reports reflecting the custom rates:
Click Add rate to set-up the custom sales tax rate in QuickBooks Online, including naming the custom rate, specifying the state agency collecting the revenue, and entering the sales tax rate itself.
Select the new or previously established custom rate.
Click Save to save the custom rate as the sales tax calculation method in the transaction.