Mothernode CRM lets users select line items from multiple orders to add to an existing purchase order (not yet received), combining orders to meet minimum order requirements or take advantage of vendor volume discounts.
This article reviews a few methods that will let you add Order Line Items to existing Purchase Orders. Once you have created an Order select the line items to append to an existing Purchase Order that is open and not yet received or partially received.
WATCH: Creating Purchase Orders from Sales Order Line Items
Adding Order Line Items to a Purchase Order
Once you have added line items in the Order Entry Tab access the POs Tab
Click CREATE PURCHASE ORDER
A listing of all the line items will appear. Simply check the box for each line item you want to add to the PO. If you want to add all, click SELECT for the options to Select all or Select None.
Once you've finalized the selection of line items to include in your purchase order type the name of the vendor to issue the PO to. The field will autocomplete the name of the vendor as you type. If the Vendor has multiple locations you can select the location as well.
Click the APPEND TO OPEN PO button.
Selecting this option will reveal a list of eligible open POs already created for the vendor specified in step 4. Only POs without any receiving activity will be eligible for appending. IMPORTANT: Be sure to check whether any POs have already been submitted to the vendor for processing before appending any items.
Once the Purchase Order has been created from the line items within the PO, the corresponding PO information will be available in the order record.

Purchase Orders with line items assigned to different orders
When viewing Purchase Orders that have multiple line items assigned to different orders users can easily see corresponding orders associated with the line items.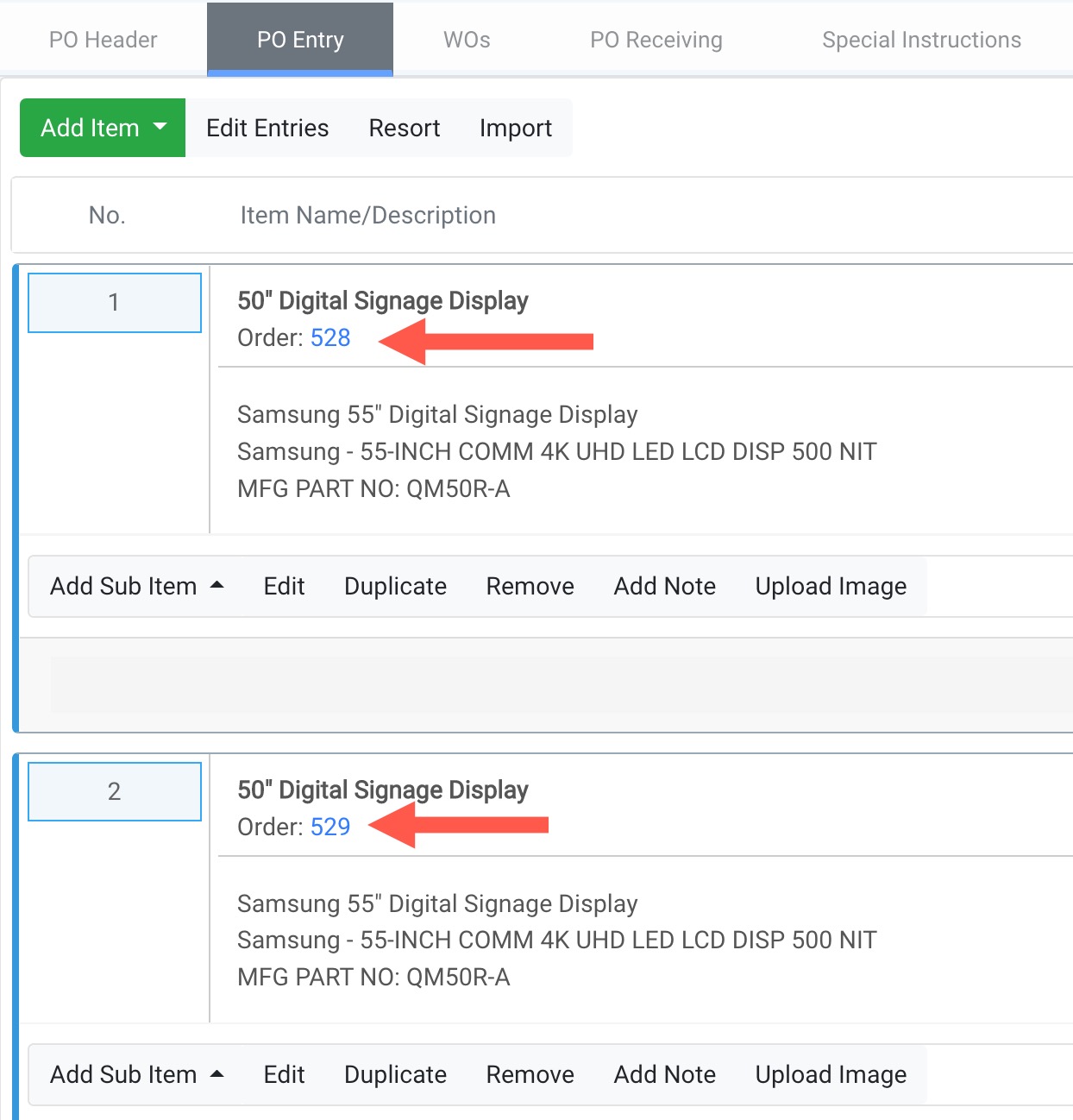 Receiving PO line items from within the Order
IMPORTANT: Items tied to POs must be marked received before they can be shipped. Users can receive POs from a variety of areas within Mothernode. One of these options is to receive the PO items from within the Order.
Open the corresponding order and access the POs Tab. The list of line items assigned to the POs will be available.
In the QTY Received field, enter the number of units you would like to receive if you are partially receiving or completely receiving some line items. When partially receiving items click the RECORD RECEIPT(1). To receive

ALL QTYs

of

all line items

simultaneously click the RECEIVE ALL(2) button.
Items that are fully received will be marked as Completed while fractional quantities received will be recorded and noted as well.
Purchase Order Receiving History
Located at the very bottom of the PO tab, the PO Receiving History is a record of every PO transaction recorded.