Mothernode CRM offers a variety of different ways to create new lead records within the Lead and Opportunities Module. One of these ways in by forwarding an email to your Mothernode Account. For customers using Microsoft Outlook or Gmail, we recommend the Mothernode Outlook Addin or the Mothernode Chrome Extension for Gmail. Both the addin and the extension include built-in functions that integrate this feature into their respective UIs.
For customers using other email clients or who want to create new leads from the IOS and Android email clients, the following process explains how.
IMPORTANT: You must have a valid Mothernode account and the email address you are emailing leads to Mothernode from needs to match the email address associated with your Mothernode Account.
How to Create Leads from Emails (Part 1)
Create a contact in your address book or email contacts. Call this contact New Leads. Follow the instructions in this step to create your custom lead email address.
Login to your Mothernode CRM Account.
Access your user profile.
Locate your API in your account profile. Copy the API Key for your user account.
In the newly created address book contact, pasts the API Key and append .lead@mailcap.mothernode.com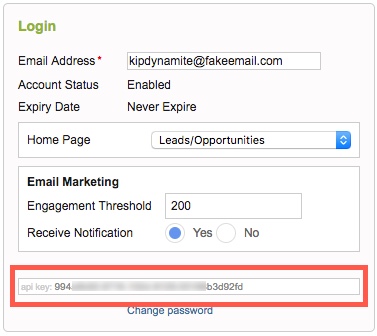 Your lead address should look something like this:
543646775557474773e3e.lead@mailcap.mothernode.com
---
How to Create Leads from Emails (Part 2)
From within your email client (desktop or mobile device), open the email you want to use to create a new lead from within Mothernode CRM.
Forward the email to your newly created contact.
Access Mothernode CRM to see the newly created lead.
Mothernode CRM will use the email to create the new lead. The subject of the email will be used for the lead reference and the body of the email will be added to the description. Users will need to add and update the rest of the information to complete the lead record.