Companies that use QuickBooks Desktop (QBD) can seamlessly integrate their Mothernode account with their QBD account to electronically transfer Mothernode Invoices and Purchase Orders (MN Enterprise Edition) or Mothernode Quotes to QBD using all other Mothernode Editions.
Mothernode CRM API (Admin) Setup
The following setup guidance requires:
Mothernode Administrator access
QuickBooks Desktop application opened including related company file
From the Administration | Settings menu, select API Connections, then select QuickBooks Web Connector:

Click to turn-on the Use QuickBooks Web Connector toggle, wait a moment to allow the screen to refresh, and click Download QWC File: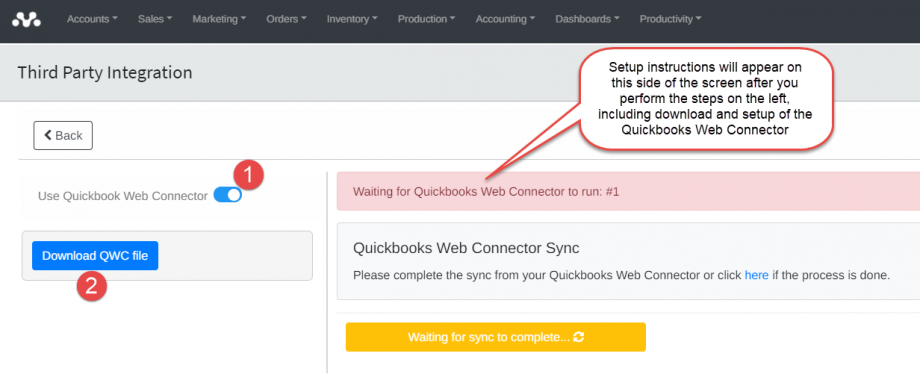 Double-click the file to Open the QWC download file, and in the Authorize New Web Service window, click OK: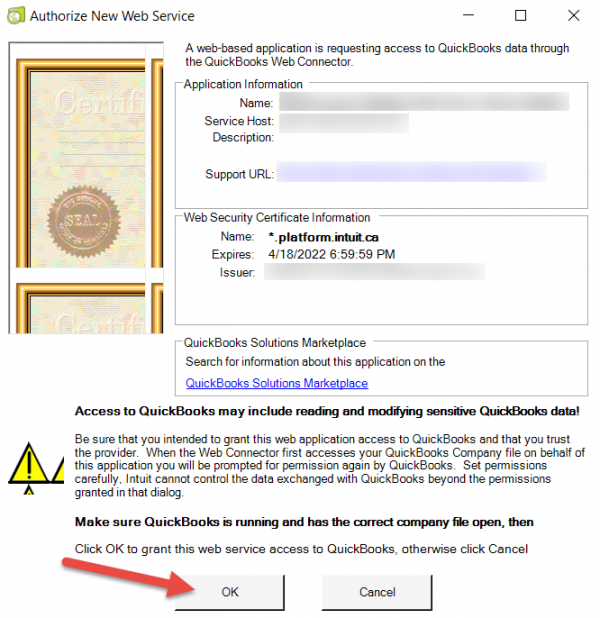 In the Application Certificate window, select Yes, whenever this QuickBooks company file is open, and click Continue: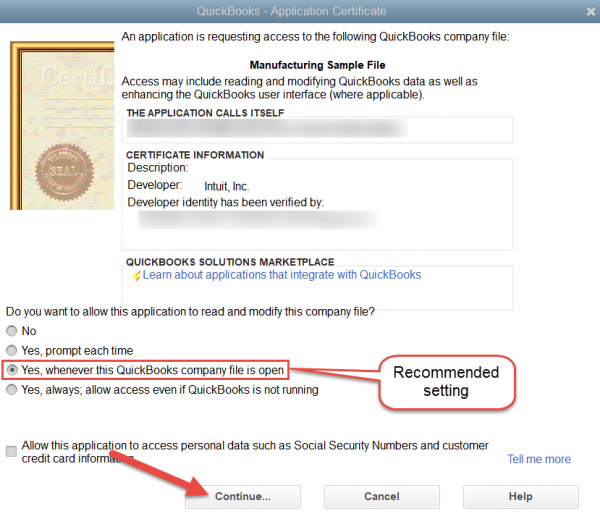 Click Done in the Access Confirmation window: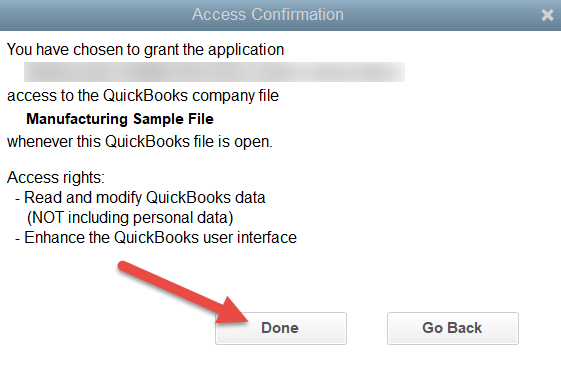 The QuickBooks Web Connector will open. Per the following image, click the checkbox on the left and enter your Mothernode user password, and click OK: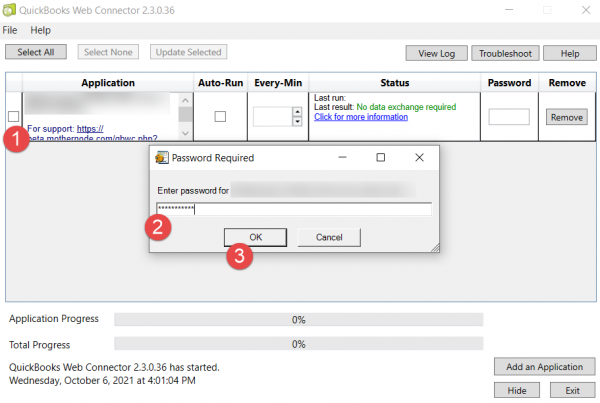 Optionally, in the Web Connector you can set synchronizations between Mothernode and QuickBooks Desktop to automatically process at specified intervals by checking the Auto-Run checkbox and setting the interval under Every-Min. The interval should be set at or above 10 minutes, otherwise setting the interval below 10 minutes may negatively impact Mothernode performance. Additionally, you may click Update Selected to sync whenever needed: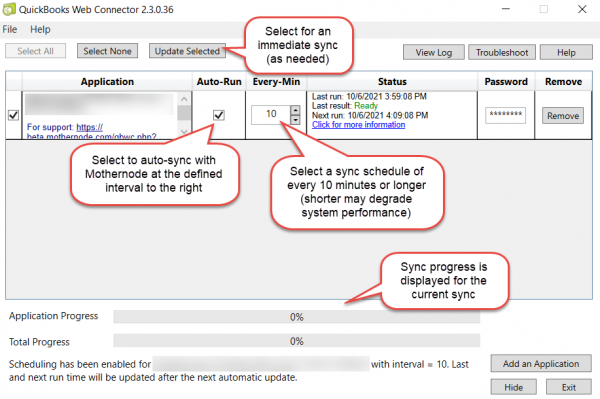 Once you click Update Selected to perform an initial sync, return to the Mothernode setup screen and click Waiting for sync to complete to finish the initial sync. You will then see options appear that will enable completion of the setup process (Be sure to click Save to save any changes made using the settings described below):
Specify the Accounting users who are permitted to sync from Mothernode to QuickBooks.
Turn this option on only if you do not want sub-items to sync to QuickBooks transactions.
If your QuickBooks companies are assigned to Classes, map the classes to your Mothernode company or companies.
Select the default state tax agency in QuickBooks (Required).
Select your QuickBooks accounts to assign to the income and expense transactions (Note Required selections).
Map the payment terms specified in Mothernode with the corresponding QuickBooks payment terms.
Provides the Sales Tax Rates maintained in QuickBooks and that are available for selection in Mothernode transactions.
Initiate a new sync to update sales tax rates and other settings from QuickBooks.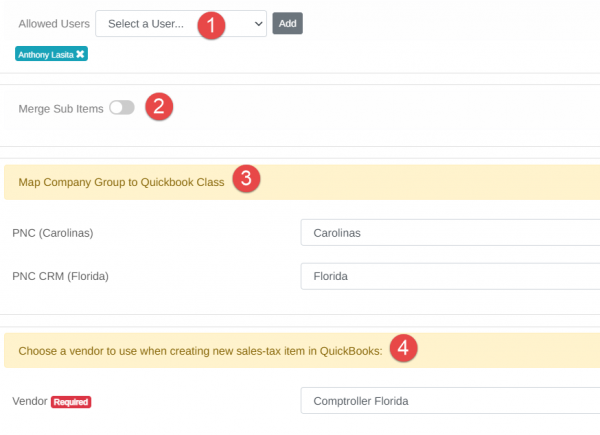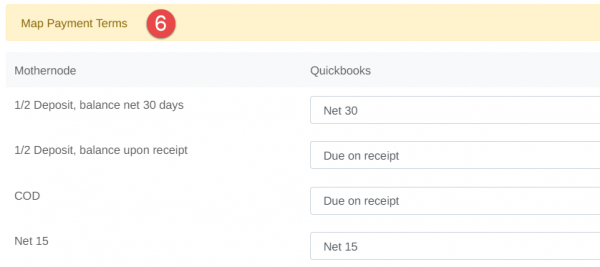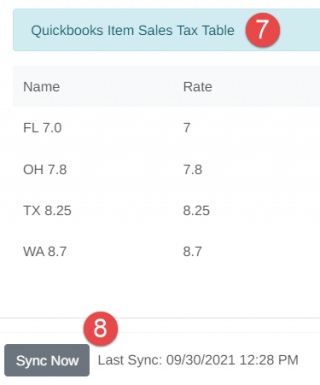 Setup for Multiple QBD Office Files
Please note that if you have multiple offices set up in Mothernode and multiple QBD office files, and you are not using classes for this purpose in QuickBooks, you will need to complete setup for each office in Mothernode that you will be syncing to a corresponding QuickBooks file. Per the following, the office selection dropdown menu is located in the upper-right portion of the API setup screen (not applicable in single office Mothernode accounts):