When selling goods and services Mothernode CRM customers may want to make some products and services commission exempt. For example you would not want to apply commission to external costs such as shipping charges or permits.
Mothernode CRM gives you the ability to make certain products and services categories and inventory items commission exempt when running commission reports.
Products and Services
The following explains how the make Product and Services categories commission exempt.
Access the Commission Report Module.
Click Commission Settings.
Add a Checkmark to the commissionable items.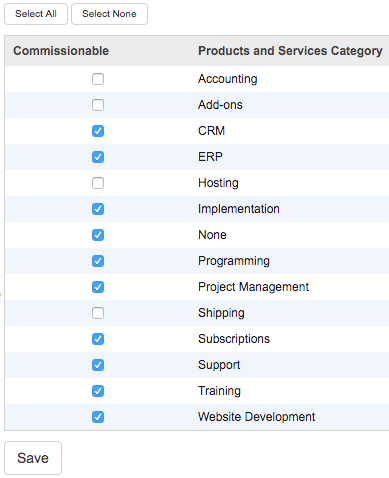 Inventory
Mothernode CRM Customers using editions that include Inventory can also determine which Inventory Items are commissionable and non-commissionable.
From the Inventory Module, open and Inventory Item.
Check Yes or No in the commissionable toggle. (by default all items are commissionable)