Mothernode CRM provides integration with a variety of accounting platforms including QuickBooks Online (QBO), QuickBooks Desktop (QBD), and Xero. This enables synchronization of Mothernode Invoices, Quotes and Purchase Orders to these programs seamlessly and efficiently.
This article covers the common synchronization method that these three integrations share to sync Mothernode Invoices, Quotes and Purchase Orders. Although the full synchronization functionality varies somewhat for QBO, QBD and Xero, the following general process covered in this support article will work well for all three accounting programs.
Sync from the Invoices, Quotes or POs List
For all three supported accounting platforms, the common method for syncing Invoices, Quotes and Purchase Orders from Mothernode begins with accessing the Invoices, Quotes or Purchase Orders transaction list, clicking the Actions dropdown menu and selecting the applicable export option:
QBO: Sync with QuickBooks
QBD: Export to Accounting
Xero: Sync with Xero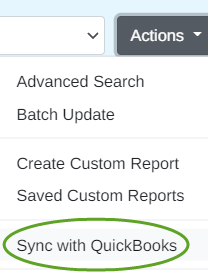 On the Export screen, the default tab lists transactions that have not yet been synced. If needed, conduct a search by adding Customer, Invoice or Date criteria (or a combination of criteria) and click Search, then select the checkboxes for the transactions to be synced:

The 3-dot menu above the checkboxes provides additional Select and Show options as well.
From the Actions dropdown menu, to initiate the sync select:
QBO: Sync Selected
QBD: Export Selected (QBWC)
Xero: Sync Selected

Click OK to confirm.
The screen will refresh and display the Export History tab. In QBD, pending syncs will be flagged with a gold tag, and completed syncs will be flagged with a green tag. View Records can be clicked to display a list of the invoices included in the synchronization event:

The colored tags are not applicable on the QBO and Xero Export History tab, though it confirms the same information and enables access of the specific synced records: