Mothernode CRM lets ConstructConnect customers conveniently receive or import information from their ConstructConnect Account into their leads and opportunities. You must be a ConstructConnect Insight Customer in order to use these features. For more information about ConstructConnect and their plans, contact a ConstructConnect representative.
This article addresses how to export project lead data from ConstructConnect.
To learn how to subsequently import ConstructConnect project leads into Mothernode CRM, please see the article ConstructConnect CRM Integration.
It's possible to use a combination of both of the following options depending on your needs:
Option 1 – Using the ConstructConnect Insight Sync
ConstructConnect Insight Customers whose subscription includes the Insight Sync service will get the most benefit with their Mothernode Integration.
From ConstructConnect Insight:
Create your desired search
Upon saving the search, select the checkbox with the option CRM Export
Any projects that have been updated in the last 24 hours AND any future projects that are added or updated will be automatically delivered to the FTP site and mapped into Mothernode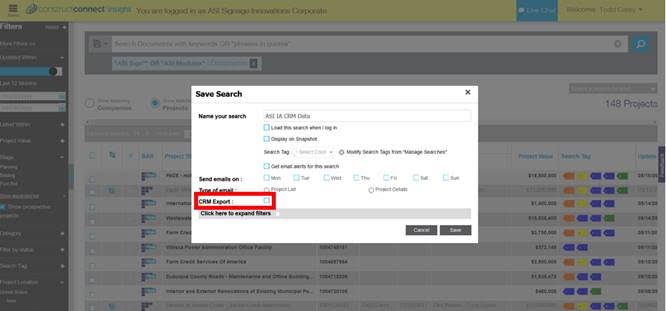 Option 2 – Manual Export
ConstructConnect Insight Customers can export their project data manually and subsequently import the XLS files into Mothernode, representing a more targeted approach.
IMPORTANT: Regardless of the fields you depend on or want to include in your export, you must export ALL Fields. Mothernode will important all the data available in the XLS file. If you do not select all fields for export, your data will not import correctly.
After reviewing/pre-qualifying a project, mark the project for CRM Export, which can be done from one of two displays:
From the Project Leads list: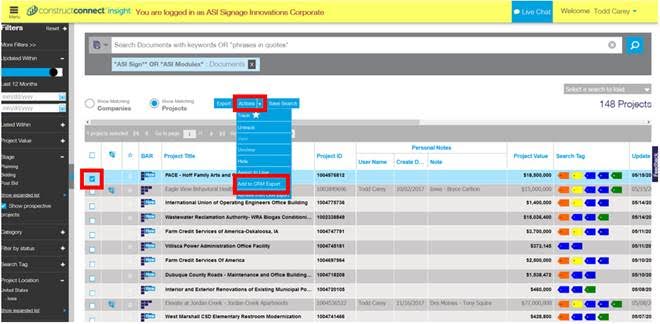 From the Project Record: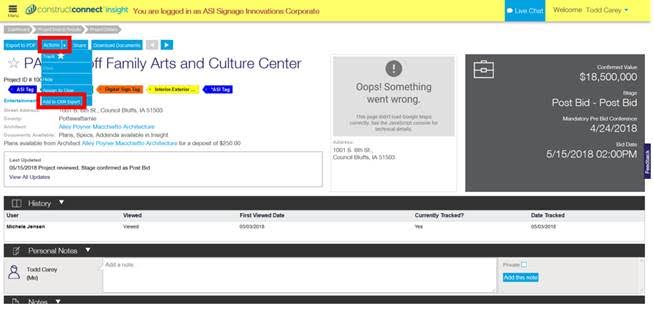 Please note that Option 1 above (Using the ConstructConnect API) includes projects on the list that have been updated in the last 24 hours. If you have a need for any historical data to be imported to Mothernode, please contact your ConstructConnect Rep to request an ad-hock report for a specified timed period.
Please see the article ConstructConnect CRM Integration for instructions on how to import the ConstructConnect leads into Mothernode CRM.