Mothernode allows you to connect your Google account with your Mothernode account.  Connecting your Mothernode account with your Google account allows you to view scheduled Mothernode calendar events within your Google calendar.
Login to Mothernode
Go to My Account
From within the user account profile, click the Google Account tab
Click the Connect with Google button:

Select the Google account that matches the email address that you use to login to Mothernode: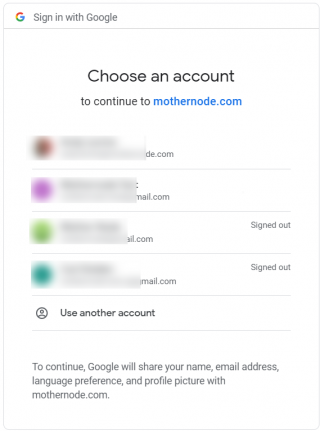 Once you select the account (and login to the Google account if you were signed-out), if you see "This App isn't Verified", move forward by clicking Advanced and then select Go to Mothernode.com. Mothernode is considered a trusted developer.
Click Allow on the following screen to give permission to Mothernode and Google to sync calendars: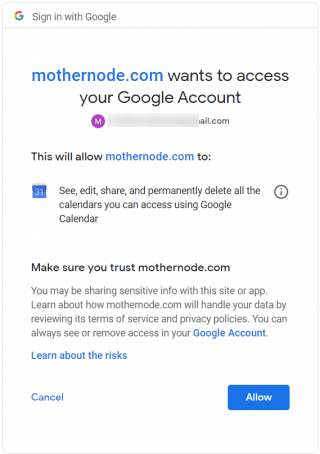 You will be returned to the Mothernode Google Account tab. You can sync one or more Mothernode calendars to Google, by selecting the Google account from the Sync with Google dropdowns for each calendar that you would like to sync:

The status Saved next to the account selection confirms that the selection is saved, and an Unlink option will become available should you decide to unlink the sync connection.
Check the Two-way Sync checkbox if you would like the ability to modify synced calendar events in your Google calendar and automatically update the corresponding calendar event in Mothernode.
Once setup is complete, when a calendar event or follow-up is created in Mothernode, the event will (within a few seconds) sync to the corresponding Google calendar.