Mothernode CRM allows users to create task templates that can be selected and used repeatedly for common tasks. Additionally, task templates may include a list of categorized sub-tasks that act as steps toward completing a primary task, all within a single 'parent' task record.
Creating Task Templates
Access Tasks from the Productivity menu.
In the top-right portion of the Tasks list, select Templates.
In the Template Manager list, click New.
In the Edit Template window, enter a clear name and description of the template, so that your team members will understand the purpose of the template and possibly use the template for a task.
Select Private if the template is only for your use, or select Public if you would like to share it with your team.
Under Action Items, click Add New Category: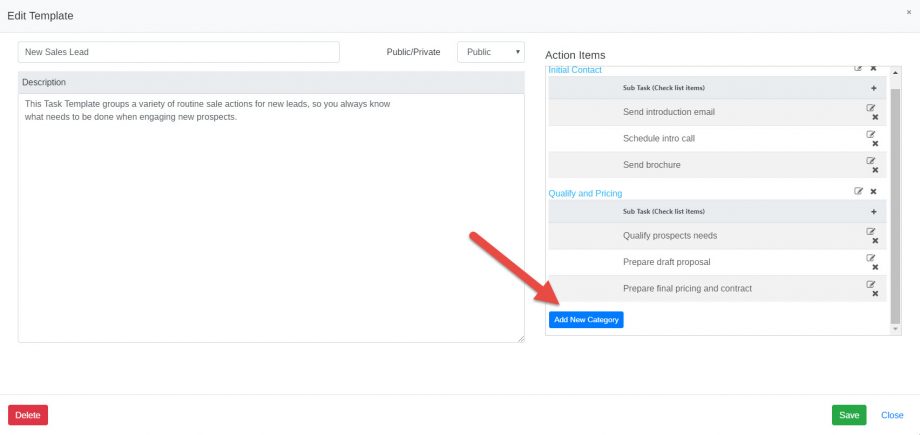 Enter the Category name and click Add:

Click the plus '+' symbol to add specific action items within the new category, click Add, and repeat this process until all action items are entered for the category:

The delete 'x' symbol can be used to delete actions and categories as needed, and the edit symbol is used to edit actions and categories.
Click Save to save any updates including new action items.
The template with the new action items may now be selected within Mothernode CRM Tasks and Smart Tasks.
Please view the article Tasks for information on how to create and manage Mothernode CRM tasks.
Please view the article Dispatching Tasks for information on how to assign and dispatch tasks.
Please view the article Task Action Items for more information on creating task action items.