There are two main types of users in every Mothernode account; Users and Administrators.
Users are general accounts that are assigned to individuals who have access to a Mothernode account. Administrators have access to all of Mothernode's configurations and system settings, while users are limited to standard frontend functionality. (See below for Administrator functions)
There are no limits to the number of Users or Administrators you can create in a Mothernode account, but each User or Administrator requires a single license. See information on adding users or managing subscription for more information about User accounts.
Administrators can set these user types in the Admin Section of the application in the user accounts.
Click the Administration Tab
Open an existing user account or create a new one.
Select the User Type: User or Administrator
Click Save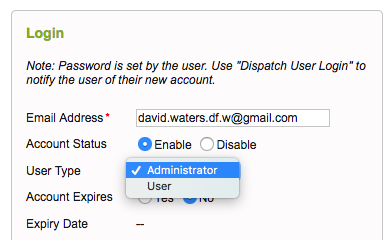 Summary of Administrator Functions
Adding and Removing Users
Managing User Accounts
Managing Account Subscriptions
Updating Company Profiles
Managing SMTP Settings
Activating Marketing Features
Adding Add-on Services to Mothernode Accounts
Configure Mothernode Settings
Restore Records
Merge Contacts
More.