Mothernode CRM Admins can apply unique regional settings to one or more of their company accounts. These settings primarily pertain to geography and country policies, allowing admins to setup Tax vs. Vat, Postal Code vs. Zip, and more. Only Admins can modify these settings. Regional Settings are systemwide settings that apply to all users and cannot be overwritten at the user level.
Accessing Regional Settings
Access the administration module
Click Regional Settings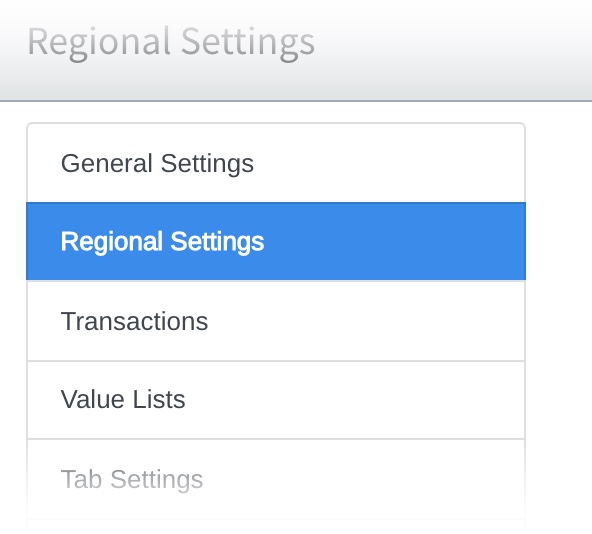 Make your adjustments and then click SAVE.
Editing Regional Settings
The following items can be edited in Regional Settings
Default Country Setting your default country will result in different address setting options. When choosing the United States, you will have the opportunity to set a State for the State field. When choosing Canada, you will have the opportunity to set Provinces instead.
Currency Settings are mainly for transactions but will appear elsewhere throughout Mothernode. Selecting your currency setting will set the correct currency within each transaction. You can also choose to have the currency symbol (i.e. USD, CDN, etc.) appear in the transaction totals.
Additionally, admins can determine whether or not Sales Tax should be used (i.e. Canada and the US) or if VAT should be used.
Important Note about Tax: When enabled, Mothernode CRM automatically applies default tax rates for US customers, based on their tax rules. For more information about Mothernode's built-in tax features for US customers, click here.
Localization Settings allow admins to set up their accounts using preferred terminology throughout their Mothernode account. For example, State labels can be changed to read State, Province, State/Province, and so on.
Date and Time Formats let users set the standard appearance of date and time formats throughout their Mothernode CRM Account.