Marketing tags are a powerful and convenient way for marketers to categorize and segment their contacts within Mothernode. This process can be either manual or automatic. In manual cases, users can assign a marketing tag to an individual contact record, use the Batch Update function to add tags to multiple contact records at the same time, or set marketing tags when importing multiple contacts. The process can also be automated by assigning marketing tags within clickable links in Mothernode email templates. This process discretely allows the contact to tag themselves when they click a call to action (button or link) in a marketing email they received.
Setting up Marketing Tags in your Emails
Adding Marketing Tags to your email templates is easy. You can add as many marketing tags as you would like to any email template.
Template Setup
Create or open an email marketing template.
Add the marketing tags you would like in the template setup screen. Marketing tags do not have to be added here if they were added previously and currently exist in Mothernode.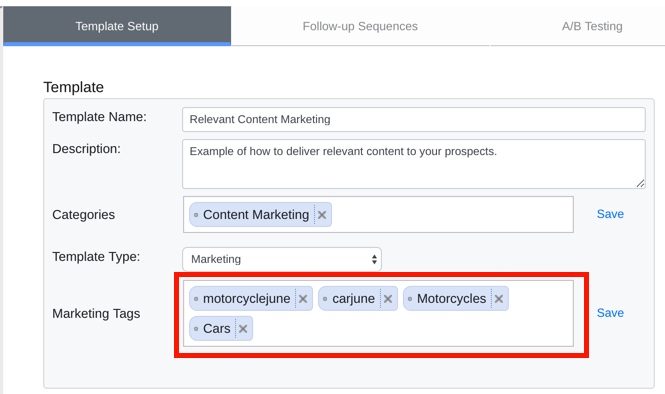 Adding Marketing Tags to Email Templates
You can add your newly created marketing tags to email templates when defining buttons and links.
Specify the link for the text or image you are linking to in the template.
Click the link icon in the editor.
In the Insert Link window shown below, add the marketing tag(s) you would like to use.
IMPORTANT: You may only add tags that were previously setup in Mothernode or added in template setup as shown above.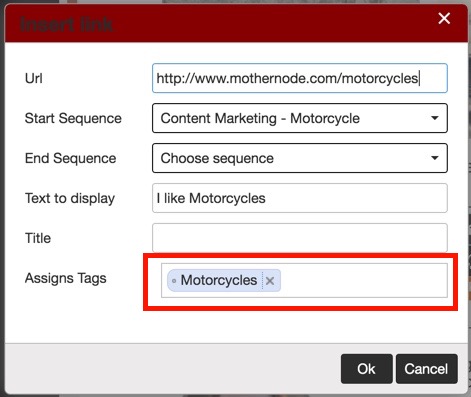 Activating Tags
In the example below, when the contact receives the email and clicks the motorcycle link, Mothernode will automatically assign the 'Motorcycles' Marketing tag within their Mothernode contact record.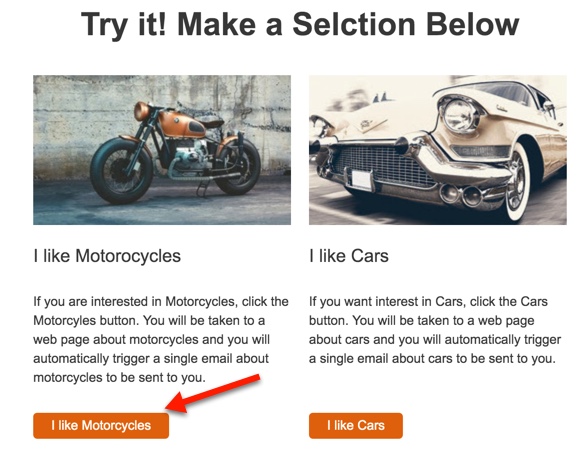 Note: Contacts can be assigned to more than one market category with multiple Marketing tags.
Now that the link has been clicked the contact has been tagged.
List View
The list view is practical for searching and viewing all contacts with one or more tags or creating custom reports to further analyze contacts with Marketing tags.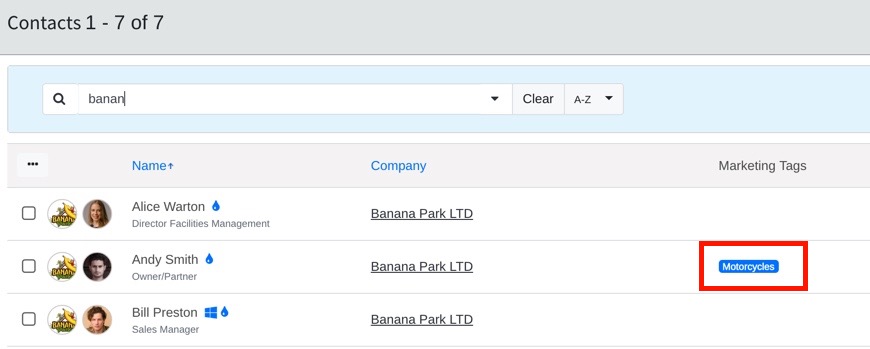 Record View