This is the sixth in a series of articles dedicated to the creation and implementation of Lead Capture Forms in Mothernode CRM. The following links enable you to access all articles in this series:
Lead Capture Forms – Mailchimp Lists
Mothernode CRM Sales & Marketing Edition (and above) provides an API connection to Mailchimp, enabling customers to easily add Mothernode CRM contacts to their Mailchimp lists. For more information about the Mothernode CRM API Connection to Mailchimp, please read API Connections – Mailchimp.
Once the API Connection to Mailchimp is setup and active, your Mothernode lead capture forms can send leads from the forms to one or more of your Mailchimp lists. Access the Mailchimp Lists section of the Confirmation Options tab for your Mothernode lead form: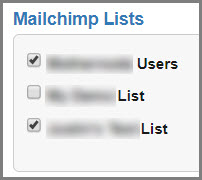 Select one or more of the available lists, and these Mailchimp lists will automatically receive the contact information when the associated Mothernode lead form is submitted by a respondent.